WELCOME TO THE PIXEL BUNKER
We're packed full of classic arcade machines such as Pac-man, Galaga, Donkey Kong, Star Wars, OutRun, Street Fighter 2 and many more. With every machine set to free play, the only cost to play is the admission fee.
Open Wednesday to Sunday plus Tuesday during school holidays, bookings in advance are highly recommended.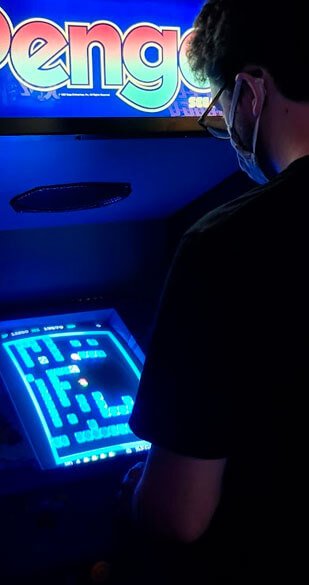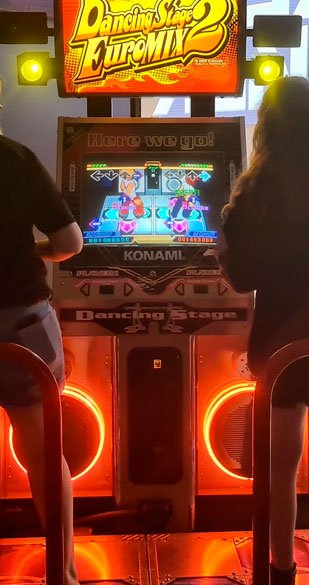 The Pixel Bunker is located on Secklow Gate West in Milton Keynes. We are conveniently situated in Central Milton Keynes, just ten minutes from Junction 14 on the M1, and just seven minutes from Milton Keynes Central Train Station.
The Pixel Bunker,
34 Secklow Gate West,
Milton Keynes
MK9 3AT
What Are Your Opening Times?
The Pixel Bunker will be open each Friday at 12:00, 15:30 and 19:00. On weekends we open at 10:00, 13:30 and 17:00 on Saturday and 10:00 and 13:30 on Sunday. During weekdays we now have additional Wednesday – Thursday sessions at 11:00 and 14:15.
Are All Your Games Original?
With the exception of a few replaced parts here and there, all of the machines in The Pixel Bunker are completely original arcade cabinets fully restored by our in house team.
What Is The Entrance Price?
Gaming sessions will cost £14.50 for Adults and £10.50 for Children. Family tickets will be £40.00 and concessions are available for students with an NUS card. Booking fees also apply.
Will There Be Food & Drink At The Pixel Bunker?
There are snacks and soft drinks sold at The Pixel Bunker.
Is There A Cash Machine Near The Pixel Bunker?
A Lloyds Bank with three ATMs is next door to The Pixel Bunker.
Is There Parking At The Pixel Bunker?
Yes. There are over 1000 spaces immediately outside the venue for as little as 50p per hour.
Will I Need To Wear A Face Mask?
In accordance with Government guidelines, Face Masks are no longer mandatory, however if you wish to wear a mask you are welcome to bring your own or we have some disposable ones on the front desk.
Are The Machines Cleaned Regularly?
Yes. Staff will be on hand during each session and will be regularly cleaning machines with anti-bacterial wipes. In the break between each session all machines will be thoroughly cleaned down ready for the next session.
Can I Leave A Session And Come Back Again?
We would ask that you remain in the venue for the duration of your session, however wristbands will be issued and we will allow people to leave and return if it is necessary.
What Age Can Children Visit Unaccompanied By An Adult?
Children aged 14 and over can visit The Pixel Bunker without an adult. Under 14s must be accompanied by at least one paying adult.
I Will Not Be Playing The Games, Do I Still Need A Ticket?
Unfortunately we have a limited capacity at The Pixel Bunker and sessions regularly sell out so every attendee requires a paying ticket.
Are There Any Toilet Facilities At The Venue?
We have two toilets at The Pixel Bunker, one of which is an accessible toilet.
Does The Price Include Entry Into The National Film And Sci-Fi Museum?
Unfortunately The National Film and Sci-Fi Museum and The Pixel Bunker are both separately ticketed attractions. You will need to purchase an additional ticket for entry to the museum.
What Is The Accessibility Of The Venue?
With both stairs and lift access to take you up to the first floor we offer access to all. The flooring throughout the Shop and The Pixel Bunker is all level permitting wheelchair and stroller access.
Is There Dedicated Parking For Disabled Visitors?
We have two dedicated Blue Badge bays right outside the entrance, and many more positioned around Lloyds Court. All parking zones in Milton Keynes are Free when a Blue Badge is displayed.
Looking for that extra special present for the gamer in your life? We have you covered!

We are now able to offer Gift Vouchers for The Pixel Bunker through Gift Up! Simply add the amount you wish to send as a gift into the box below, click buy, write your message, choose delivery method and make payment. Easy!

Vouchers can then be redeemed by the recipient at any time by adding the code to the checkout on the tickets page.
When you're ready to spend your voucher go to the Eventbrite shop and select the date and session you'd like to visit.

Enter the code from your voucher in the 'promo code' field at the top of the page Select the ONE Ticket* that you wish to purchase

You will see the voucher will have been taken as full (or part if you don't have enough to cover it) payment Complete the transaction as usual

*Why can I only buy one ticket at a time in Eventbrite? While we understand that this is not ideal, it is a safety feature to ensure that the voucher is only used once.

What if I don't spend all of my voucher at once?
This is fine. Any remaining balance will be available for use.

Can I use more than one voucher code per order?
Unfortunately, you can only enter one promo code per transaction. In the event that you wish to amalgamate vouchers for a larger purchase please email thepixelbunker@replayevents.com who will be able to arrange this.

What can I spend my vouchers on?
You can use your voucher for entrance to The Pixel Bunker, either by purchasing online via Eventbrite or on the door (subject to availability).

I've lost my email with the code on it. What can I do?
We ask that you keep your code safe as it is like cash. In the event that you are unable to find your email or it has not been received when you believe it should, then please email thepixelbunker@replayevents.com who will be able to look into it for you.
Gaming sessions will cost £14.50 for Adults and £10.50 for Children. Family tickets will be £40.00 and concessions are available for students who have a NUS card. Booking fees also apply.

Please note that entry into The Pixel Bunker does not grant entry into The National Film and Sci-Fi Museum. If you wish to enter the museum you will need to purchase a separate entry ticket for this attraction.